Over the next few days, we are going to cover some of the new features of M17 at a slightly deeper look. We will look at the new Big Decisions, Practice Squad, Contracts, Game Planning and more. Today we are going to take a quick look at three new features, or slightly old features with a new twist. Let's get into it.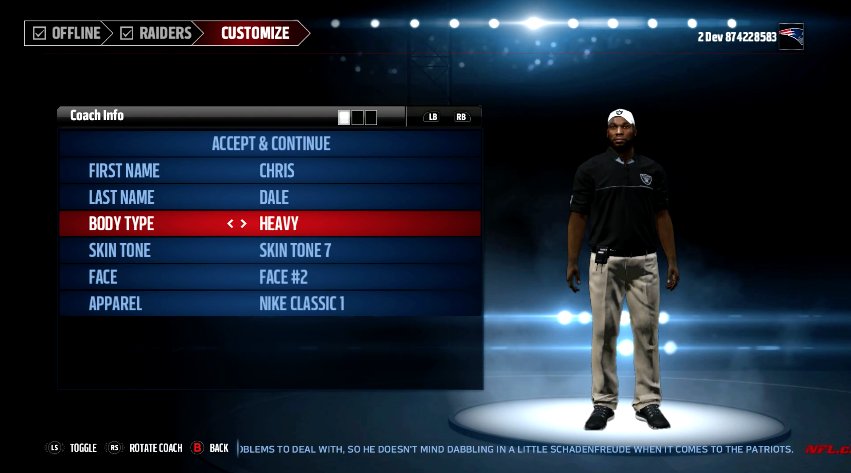 Create A Coach
Create A Coach has gotten an upgrade, finally. I hope I wasn't the only one bored with the same 9 types of coaches, which we've had for the past umpteen years, but M17 will be totally different. Now you will have 84 different combinations of coaches that you can choose from. There is also brand new apparel which you can wear (even for your players, but more on that later), which is another nice upgrade.
You can also choose from a strategist, motivator and team builder, again this year. The major change is that you don't get discounts towards certain coach skills, but instead you start with certain coach skills. Now, I don't want to get into which is better than which, I am sure you can figure that out for yourself, but instead just give you the facts of what you get.
• Motivator – You come with trade influence package.
• Strategist – You come with expert scouting package.
• Team Builder – You come with coach xp package.
Also adjusted is the amount of XP each package now cost. This has been dramatically decreased and you receive more obtainable goals with a decent amount of XP for hitting those goals throughout the season and year. Choose wisely and have some fun with it. .
NEW Quarterback Slide
I would very much enjoy someone explaining to me why this was broken in the first place? Was it hard to tap to slide and hold to dive? Either way, the way you slide with your Quarterback is brand new and will probably cost a few of us some bad plays before we get it down pat. First is that running with your Quarterback will still cost you a fumble or injury if you don't slide. So if you don't want to learn this and go in head first – then be my guest, but be warned that you will pay – sooner or later. So for my XBone friends out in the world, you now have to hold LT and RT and X to slide; and for my PS buddies, we have to hold L2 and R2 and Square to slide. Why? I have no clue, ask the guy who makes more than me because it makes no sense on why that was added. If you don't get the hint, I hate this feature already.
NEW Edit Players
Full customization is now in our hands, and this is a feature which excites me the most. You can now edit everything about a player, their face, their look, their skin color, their equipment and even their ratings. Don't worry Commish – you can set it where only you have access to this and it can't be touched by anyone else. Also, when editing a player, it will show up in transactions as a transaction that took place. So don't get any of those funny thoughts either.
Equipment is totally upgraded as well. Finally, we have more equipment and SHOES to choose from! I know, not a big deal for most, but I was sick of wearing the exact same thing for the past few years and now you have options galore.
Contacts can also be edited. This means no more owners destroying your franchise and messing everything up. Now you have full control to fix bad moves or even the dreaded releases as I quit the franchise move that some guys decide to do. This gives leagues so many new options to be creative with and I can't wait to see what our community comes up with as this game gets in hand.
Overall Thoughts
I really love the fact that we can do player editing and totally control what our franchise looks like. I think this will open the door to some really creative ideas that leagues will come up with to make their league stand out more than the next.
I also hate the slide. No reason to really dig deep, I just think it doesn't make sense, but maybe that's just me.
While I hate the slide, I also really enjoy the new coach looks and the new way that you start off with certain skills instead of just discounts.
I am really pumped about M17 and can't wait to get it in hand. What, in these new additions, are you most excited about? Leave us your thoughts.
Here is where I have found some of my research and a great place to get more input:
• Moonlight Swami over at FranchiseNation: https://www.youtube.com/user/MoonlightSwami
• Sports Gamers Online: https://www.youtube.com/user/sportsgamersonline
• Feel free to give our channel a follow also – Grown Folks Online Community: https://www.youtube.com/user/natedawg212000